This class will give you an in-depth understanding of the first visit to a chiropractor and why people seek chiropractic care. It will explain that chiropractic care is about more than just helping people with neck and back pain, by understanding how chiropractic care works and how it influences the nervous system.
This class will provide you with a simple and easy-to-understand explanation of what chiropractic care is so that you can share this with your friends, family, and people that are curious about chiropractic care. It will also provide an explanation about what the 'popping' sound is that occurs during certain adjustments, which can often stop some people from seeing a chiropractor because they are worried about the noise. This will give you the tools to easily ease their concerns and explain what it really is.
Video Scripts and References
About Instructor
Ratings and Reviews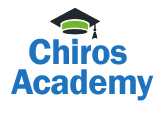 Login
Accessing this class requires a login. Please enter your credentials below!